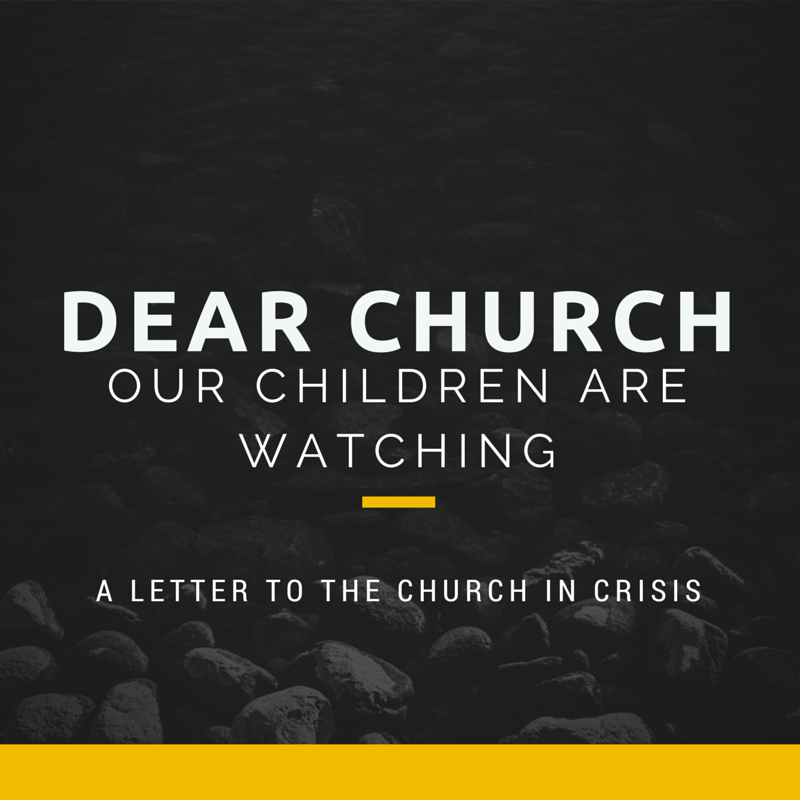 As I've shared here and here and here, our church suffered a catastrophic fire early this week. Below is a message from me to the our church, but the overall message would apply to any church in any time of crisis.
Dear Brothers and Sisters in Christ,
We are facing a greater trial as a Body of Christ than most of us ever anticipated.  The future is full of uncertainty.  Almost every plan we had in place for the coming months are on hold or even shelved permanently.  Things we held sacred may not make sense any more.  It is hard, my friends, so very hard.
In the midst of this season of questions, I want to remind you of something very dear to me: our children and youth are watching every bit of this crisis.  Their faith is being shaped by the words we say, the decisions we make and the way we behave.  We have a great responsibility to the next generation of believers to do this well.
Several years ago, we spent five weeks repeating those words in worship and Vacation Bible School – No matter who you are- TRUST GOD!  No matter how you feel- TRUST GOD!  No matter what people do- TRUST GOD! No matter what happens- TRUST GOD! No matter where you are- TRUST GOD!  Are we prepared to live this out right now?  We have to be.  The stakes are too high.
As we move forward, there will be strong feelings and opinions.  By nature of being displaced, we will have to do church differently.  We have to trust that God is directing our decisions.  I am reminded of King Jehoshaphat's prayer in facing three armies swarming around Judah, ready to attack in 2nd Chronicles 20.  In verse 12 the king prays "We do not know what to do, but our eyes are fixed on you." Can we fix our eyes on God and trust him to lead the way?
Can we dig deep into the promises of Scripture that our God is our refuge and strength, an ever present help in trouble?  Do we trust that we are more than conquerors through Him who loves us and that nothing can separate us from the love of God in Christ Jesus?  These are words your children have memorized over the last several years.  Now is the time to show them that we believe them.
Every one of us will have times over the next several months when we aren't completely on board with a decision being made by leaders within the church.  That will always be the case.  How we choose to express those feelings matters so much more now.  If we are full of love and grace for one another, trusting that we are all trying to follow God the best way we know how, our kids will see that.  They will see a body of Christ working hard to BE the body of Christ.
Ephesians 4:31-32 says "Get rid of all bitterness, rage, anger, harsh words and slander, as well as all types of evil behavior.  Instead, be kind to each other, tenderhearted, forgiving one another, just as God through Christ has forgiven you."  May we tattoo these words across our foreheads and inside our hearts as we move forward.  There is no wound quite so deep as a child hearing bitterness or ugliness about their parent from an adult church member.  As a leader with children who serves the children of our other leaders, this is so dear to me.  Be kind to one another…tenderhearted…forgiving one another as we have been forgiven.  This is a season where grace has to be the ultimate goal in all things.
I love this church and its people so much.  May we be knitted together in Christ's love today and always.
In Christ's Love,
Amanda