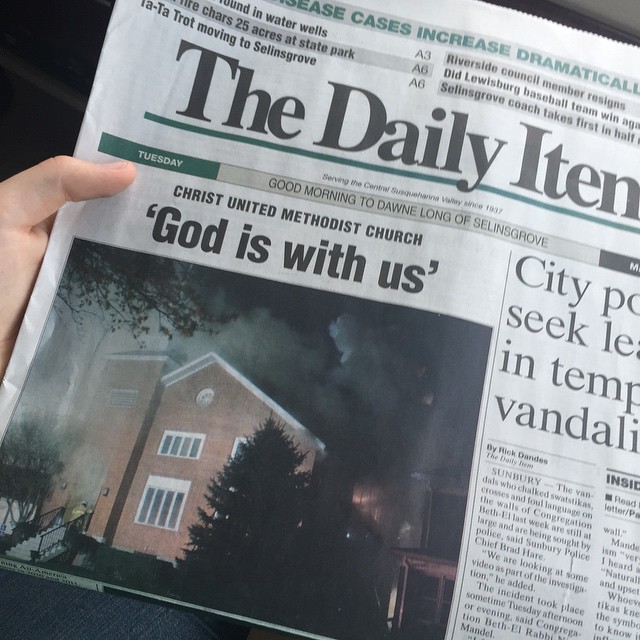 As many of you know, there was a catastrophic fire at Christ United Methodist Church last night.  Our hearts are breaking, but we are trusting and leaning on God's grace and mercy to carry us through.
I wanted to reach out to all elementary parents with some words and tools to help you explain to your preschooler what has happened.
While the building is lost, Christ United Methodist Church and Agapeland are not. Pastor Ryan, Ms. Jaime and all Sunday School and Children's Ministry staff are safe. (Younger elementary children may still think we live at the church)
God will take care of us through this hard thing. We are amazed at the many ways other churches and members of the community are rallying behind us already.
The church will go on and so will Agapeland. Leaders are making plans for our temporary church and preschool home and will be in touch soon.
Ways to help your child process grief or fear because of the fire
Talk about what has happened as simply as possible. Fewer words are better.  There was a fire and the building is broken.  The church was never about the building, but about the people and the love of Jesus we all share.
Art or journalling are great outlets for children to express their feelings about the crisis. Make art supplies and journals (even a composition notebook) available for your child.  Take time as a family to draw or write about your feelings together.
I have created a YouTube play list of some of the songs we have been singing with the children over the last few years that have Scripture that I have found encouraging. Dust off those Seeds Family Worship CDs and play them in the car.  These songs are comforting and the Words are true.  The same is true of old VBS CDs and Bible Points.
Keep as much of your normal routine as possible. Worship may be different, but everything else should stay as normal as possible.
There will be hard questions and sad moments for all of our families. It is okay to say I don't know and it is ok for your child to see your sadness.  As parents, we think we need to keep it all together for our kids and have all the answers.  We don't have to.  God will give us what we need. It's actually a good, faith building thing for a child to discover that we don't have all the answers.
If you feel your child needs to see the building, stay as far away as you can. Standing in the alley or in the parking lot as far from the building is safest.  The building is not structurally sound and there is much broken glass and debris that would be dangerous for children.
"The church is not a building, the church is not a steeple, the church is not a resting place, the church is a people!"
I will have some Scripture verses and devotional thoughts for this week soon.  Please know I love you all and am praying for us all in this crisis.