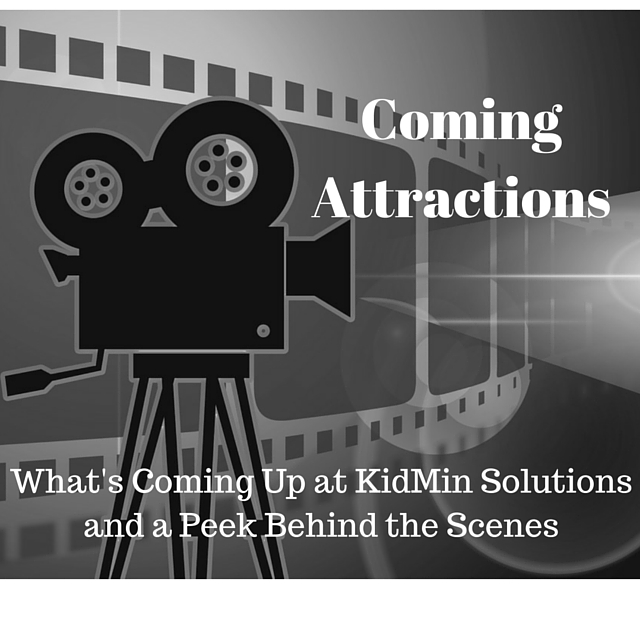 I'm a person who loves movie previews and behind the scenes stories for TV and movies.  I love the peek at what's coming up and what happens behind the scenes of my favorite media.  So today, I'm giving you a peek at what I've been working on, what's coming up and how it's all being put together.
Coming Attraction # 1- Sowing Seeds Sunday School Curriculum
This is the curriculum I've been writing since this site began.  We've piloted and edited all the lessons and are very excited that 4 units will be available in SEPTMEBER!  Sowing Seeds Sunday School Curriculum will be an ala carte curriculum- you buy the units you are interested in for the age levels you need.  There will be preschool, early elementary (Kindergarten-2nd grade) and upper elementary (3rd-5th grade) as well as an option for all ages.  Our first units will be: In the Beginning (a six week look at the early stories of Genesis), The E Squad (a 4 week journey with Elijah and Elisha focused on God's power), Upside Down Jesus (5 weeks of exploring some of the upside down ways Jesus saw the world) and The Promised Family (a five week unit tracing the promises of God to Abraham and his descendants). I hope to have video tutorials and previews for these lessons posted in the weeks leading up to our grand opening.
Coming Attractions # 2- Simple Christmas Plays
Also in September, we will release several simple and adaptable Christmas plays for your ministry. Each play has flexible casting options, using children, youth or adult performers and can include congregational singing and special music. Staging, costuming and technical demands are simple and flexible.
Coming Attractions #3- Mess-a-Palooza VBS
Our VBS Leadership team has kicked around the idea of creating our own VBS curriculum for a long time, but it always seemed so daunting to even begin.  It's amazing the clarity a little church fire can bring.  The curriculum I had purchased was completely unusable in our new portable/outdoor setting, so the idea of writing our own curriculum became more possible.  Our theme came from our real feelings that all of our church life is pretty messy right now. We used Gospel stories of Jesus entering into people's messes to teach kids (and ourselves) to trust God with all of life's messes. It was an amazing success.The curriculum and add on options will be available to you in our store in November 2015.
Behind the Scenes
Some of you might be wondering what children's ministry looks like in our strange circumstances after the fire.  It looks a lot like your children's ministry without the storage or equipment.  Sunday School re-started about a month after the fire in the basement of our temporary summer home-the chapel at our local university.  We're in one room, which for our size class is not ideal, but it's do-able. We are using a lot fewer supplies because we don't have anything.  Literally every part of our children's ministry equipment, supplies and library were thrown out in the post fire clean up.  In between writing VBS and Sunday School lessons, I priced our inventory of supplies for the insurance settlement. We have only begun purchasing replacement supplies in the last two weeks. For the most of the summer, we've used the basic supplies we have at home (construction paper, markers, crayons etc.)
This is all really, really messy.  The number of things that we can't do like we usually do catches me by surprise all the time.  Sometimes it's something simple, like the fact that we didn"t have a copy machine until the end of July, so I had to print everything at home, or not have copies. We have always shared space with the preschool, so decorations and clean up has always been intentionally simple, but this is taking simplicity to a whole new level. We are getting settled into another temporary (but more long term) space, which requires all new planning and logistical decisions. I think all of this experience will make me better able to serve all of you. It has been painful and frustrating, but I know that God will continue to use it for his purposes.
Later this week I will be sharing about what the rebuilding process has looked like for us. Hopefully it will give you some ideas for renovating and strengthening your own ministry.