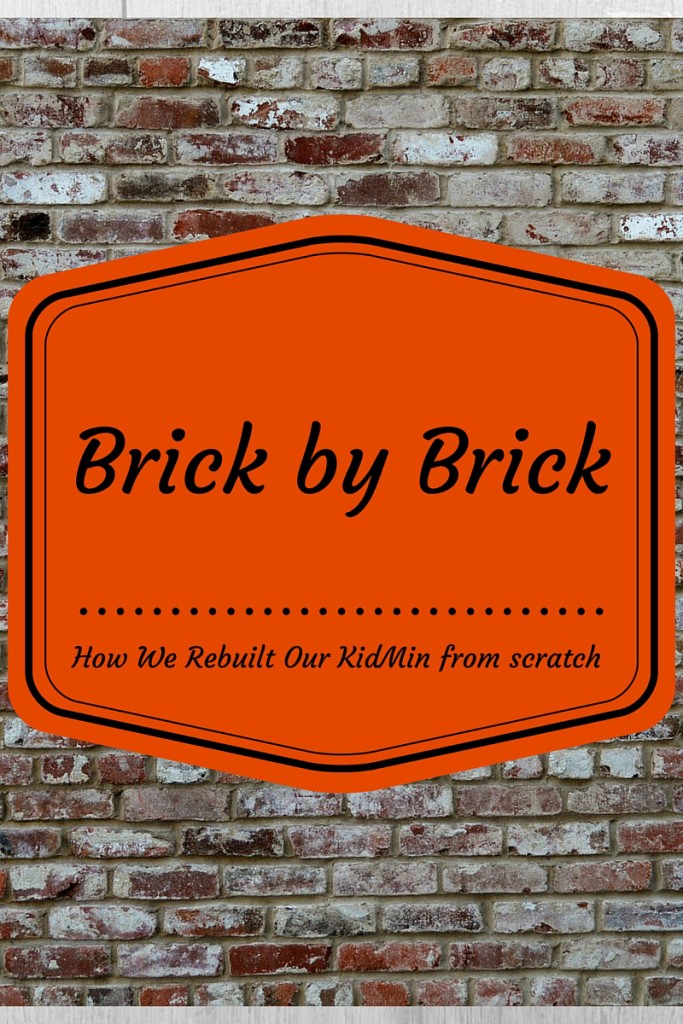 As you may recall,  our church had a catastrophic fire on May 4, 2015. You can read a little of our fire story here and here. Since that day, we have been doing ministry with scotch tape and glue and bandaids (metaphorically speaking). Nearly ever part of our ministry has been tweaked and re-evaluated out of necessity. Today, I'm sharing a few strategies and lessons learned through this summer of re-building.
1. In a Crisis, We NEED to Have FUN!
The only thing I knew for sure when we started planning for VBS was that it had to be off the charts fun for the kids and the leaders. With all the emotions coming out of the fire, we needed to just get messy and silly and have fun with kids. We needed to laugh. We needed to throw cheeseballs at each other and dump water on each other's heads and do the things we normally would never do for fear of the mess. Having fun with kids while teaching them to Trust God in All of Life's Messes pushed the lessons deeper into their hearts. Fun is a balm to weary souls and a way to connect deeper than we ever think with the kids we serve. They won't forget the lengths we went to and the messes we endured for them this summer- and NEITHER WILL WE. Fun and silliness matters.
2. Building Relationships Within the Community Matters
Our congregation has a history of being involved in our community.  We made sandwiches and handed out water bottles and flood buckets for flood victims in our area, we gave donuts, coffee and handwritten notes of appreciation to the teachers of our community as part of our Random Acts of Christmas Kindness campaign. We reach out to our community. Never in a million years did we do that strategically to get something back from the community- it was all about serving God and bringing him glory. But in serving Him and building relationships with the schools and community leaders, we have been overwhelmed with support and assistance from those same leaders. Susquehanna University offered us space to worship. Area churches held fundraisers or took up special offerings for us. We held meetings in the library and community rooms. The offers of help and support were so numerous it literally took weeks to sort through them all.  We may not see these community leaders in worship with us, but we know for certain the work we have done to love and serve them has made an impact. We need each other- churches, schools, city government and neighbors. Investing time and resources outside our church walls to serve our community is valuable and WORTH. EVERY. EFFORT.
3. Great Ministry Does Not Have to Be Expensive.
Mess-a-Palooza VBS ended up costing around $1,000. I realize that may seem expensive to some, but it is less than half what I expected to spend using the curriculum I had purchased (and we were going to be doing that really cheaply to make it happen). Remember, we had absolutely NOTHING to start with- every item in my supply closets and cabinets were thrown out in the clean up process. Every marker, paper and bucket was a new purchase. We held Mess-a-Palooza at a local park so a good portion of our budget was related to being there- donations for the use of the park, signage we probably wouldn't have made if not at the park etc.
If we had run this same VBS at our church with the supplies we already had, I think we could have done it for a lot less. And here's the kicker- WE HAD THE BEST VBS EVER! That's not me bragging about my product- that is what I heard from team members and kids who attended. We had a blast getting messy and learning to Trust God. It was awesome and I can't wait to do it again next summer.
4. Take Time for Rest and Sabbath 
This is a lesson learned from doing the opposite for much of the summer.  Summer is always a crazy time for me. But this summer was like any busy summer we've ever had on steroids. The demands of creating a VBS from scratch in 8 weeks, continuing to write each week's Sunday School lessons (while taking into account our strange classroom space and limited classroom resources), unending inventory sheets to be completed with pricing information, continuing to edit and work on the behind the scenes of this website and keep up with the needs of my family was overwhelming. I didn't always manage it well. By the beginning of August, the stress and anxiety were wreaking havoc on my whole being. I knew I had to make some changes.
My amazing husband helped me tremendously in finding space for rest. We took a last minute trip as a family to NYC to see some incredible theatre, making memories and sharing laughter that was sorely needed. But I also started reminding myself to settle down, to be gentle with myself and to make space for quiet, for study and for worship. I am still working on finding space each day and each week for the things that refresh my soul and draw me closer to God. What works for me isn't going to work for everyone. I may share a little more of this later this week for those who need ideas.
5. TRUST GOD!
At every turn in this season of messiness and heartache, God has provided everything we need.  His leading has been so clear to me when I remember that he has this all under control. My worry or stress is not going to make a bit of difference (in fact it usually makes things worse). When I lean into God, he gives me what I need, far more abundantly than I can imagine.
All summer, two verses that I have loved have come to mind over and over again.  The first is the theme verse of Mess-a-Palooza VBS:
Do not fear for I am with you, do not be dismayed for I am your God. I will strengthen you and help you, I will uphold you with my righteous right hand. Isaiah 41:10
We talked all summer about how God is with us. He's so strong and mighty he can hold us up in one hand (with one hand tied behind his back we sometimes joked). When it all got too much, I sang our favorite Seeds Family Worship song with this verse. (Here's a great video by another kids ministry with that song)
The other verse I have remembered over and over was the theme verse from one of our previous capitol campaigns.
Now to him who is able to do immeasurably more than all we ask or imagine, according to his power that is at work within us, to him be the glory in the church and in Christ Jesus throughout all generations, forever and ever! Ephesians 3:20-21
He has and will continue to do immeasurably more than I could ever ask or imagine. His power is at work within me and within our church and within all who call on his name. Any glory from the re-building process or anything we have done this summer goes fully and completely to HIM.