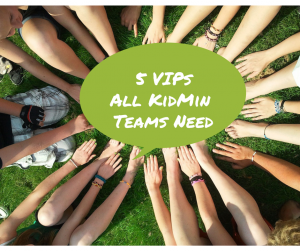 In a small to mid-sized church, children's ministry can easily become a one person party surrounded by children.  This is not safe or wise for anyone involved.  Safety policies aside, the work load for weekly or even event based children's ministry is too heavy for one person to carry.  Finding the right people to lead and support children's ministry is extremely important part of leading a ministry team.  We'll talk more about finding these people in another post.  Today, I'd like to share five VIPS you need on your team for a successful children's ministry.  These V.I.Ps may not necessarily be in the trenches with you as you lead VBS or Sunday school, but you need them on your metaphorical team.
1. Your Pastor
This should be a no-brainer.  Every ministry needs the pastor's trust and approval to be successful. However, your pastor is very busy.  I've found it easiest to keep an open dialogue with my pastor, keeping him in the loop at all times about upcoming plans and seeking his assistance when I have questions.  Most of the time, this means email or phone conversations, but occasionally it means we meet to discuss plans.  Whenever possible, I ask our pastor to be part of children's ministry events.
Every pastor will have a different style of involvement with children's ministry.  My intention is always to involve our pastor at whatever level he or she are interested in being involved.  If this means, he or she would like to be on the VBS team as a crew leader or station leader, that is fantastic.  But we have had just as much success when our pastor stops in at children's ministry events as a parent and participant.  I always ask our pastor what role if any they would like to play in children's ministry with no expectations other than prayer support.
2. Your Custodian
Before I started teaching, my student teacher advisor gave me some fantastic advice.  She said "Before you make friends with any of the other teachers on staff, make friends with the custodian and secretary.  When you have them on your side, teaching will be much easier."  This may have been the most important advice anyone could give a fledgling teacher.
I mentioned before our previous custodian with a glitter aversion.  This same custodian would move heaven and earth to help me set up for an event, happily cleaning up craft disasters of all kinds.  While not every custodian has Steve's devotion and passion, I have always tried to have a good relationship with our church custodian.  I insist that our kids and ministry team clean up after themselves.  I ask permission before doing anything that might cause problems (such as taping a circle on the floor for preschool VBS children to sit on during circle time). I am happy to do all I can to make their job easier, while heaping on gratitude for their help.  This isn't just a strategic ploy, I truly do value all that our custodian does to keep our church building in great shape!
Because my custodian knows that I do all I can to take care of our facility, he is happy to help me with set up or clean up after our messes.  I never hesitate to ask for our custodian's thoughts about any projects or activities.  A few years ago, we needed to turn our preschool classroom into a classroom for 3-5th grade due to class size.  The preschool room had preschool themed stencils on the walls and needed a good paint job.  The trustees gave approval to have the classrooms painted, but there was no money for paint.  Our custodian found a way to get the paint at no cost to the church.  Do whatever you can to  have your custodian on your children's ministry team (metaphorically)
3.  Your secretary (or office manager or administrative assistant)
In keeping with the above advice about making friends with the custodian and secretary first, do all you can to have your church secretary/office manager/administrative assistant on your team.  I am so blessed to have two fantastic women on our office staff who help me in any number of ways.  From gently reminding me to turn in newsletter articles (that are always late) to helping design handouts and take home items for VBS kids, these ladies are like my top secret weapon for ministry success.  I cannot tell you how often these ladies bail me out- making copies, creating prayer ministry hand outs, ordering supplies and even problem solving ministry issues with me.
4. Your Trustee Chair
Why the trustee chair?  Just like the custodian, your trustee chair can help you out when you are in need of a facility repair or update. Depending on  your church's policies about facility use, you may need to ask permission before using equipment or changing a classroom.  More than that, I have found our trustees to be helpful in problem solving.  At one point, I had two Sunday School classes that were in temporary spaces.  We had a cart to store one classes supplies, but needed another and had no budget left to purchase one.  My trustee chair found an unused bookshelf and put wheels on it- problem solved.  Having a good relationship with the trustee chair makes it much easier to share your vision for children's ministry.  The trustee chair can help influence others in leadership to believe in your vision as well.
5. Your Worship Chair (or a member of the worship team)
With the worship chair (or a member of the worship team) on your VIP children's ministry team, you have a voice in planning special worship events to include children.  My bias is always to include children rather than having some form of childcare (except for very young children).  We have a value in our church about keeping families together for worship rather than sending everyone to age level ministry.  So having a voice in planning special worship events- anything from World Communion Sunday to Capital Campaign Celebrations- makes sure that someone involved has an eye on what children will experience.  Until May, I was a member of the Worship Design team (as praise team leader), so that conversation happened naturally.  I was a bit concerned that this would be a problem when I was no longer part of the team.  However, because of so many years of making children part of the discussion, when there are special events, my pastor or a member of the team has asked for my input.
It is very possible that some of the above people will be actively part of your children's ministry team.  They may teach Sunday School or help with VBS or another special event.  But even if they never come in direct contact with a child in your church, they need to be part of your team.  Their support and "buy-in" to your ministry will make a huge difference in growing your ministry.