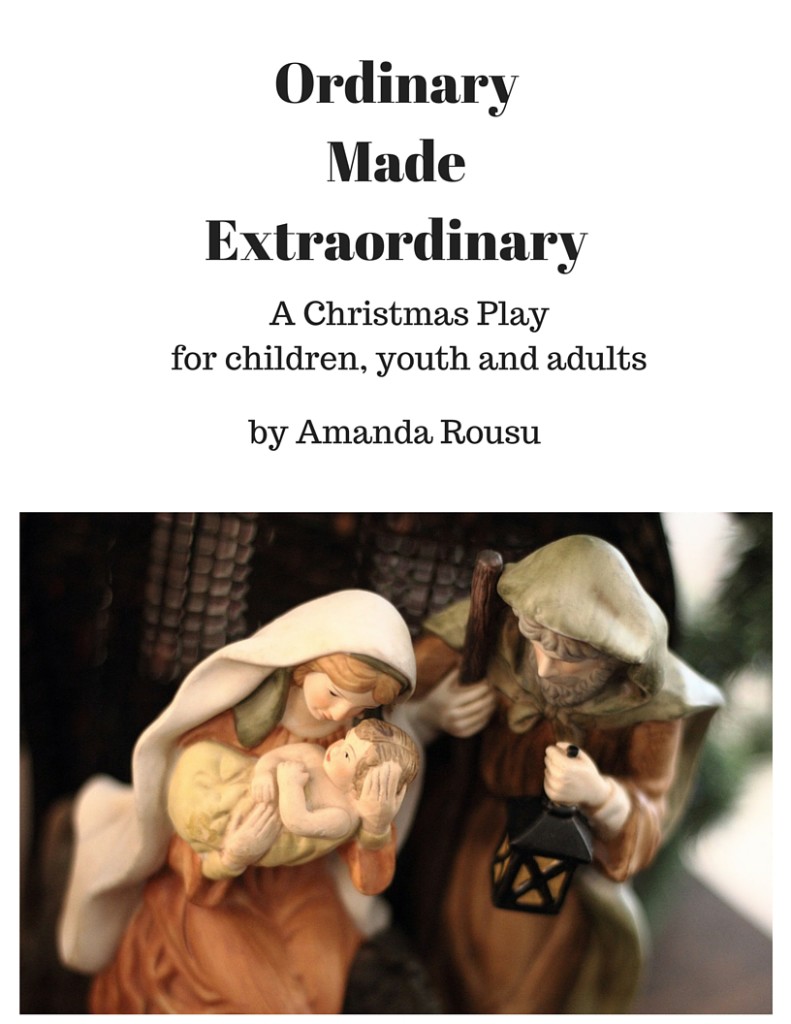 Ordinary Made Extraordinary
Setting: A contemporary church. Stage area should be empty other than a simple podium to one side. Center stage should be a large (6-8 foot tall and wide enough for your primary cast to fit behind to create the familiar Christmas picture of Mary, Joseph, manger, Angel and Shepherd kneeling) scrim or canvas which will be lit from behind to show silhouette of Holy Family 
Cast of Characters
Director: adult children's choir or children's ministry director, should be frazzled and distracted. While script refers to director as Mrs. C, this could easily be played by either a man or woman
Shepherd 1: a child
Wise Man 1: a child (boy)
Wise Man 2: a child (girl) – non speaking part
Jill: a child dressed as an animal or angel that can be changed to a wise man
Mary (Child version): older girl, bold and sassy
Joseph (Child version): older boy, grumpy and pushy
Angel 1: child, whiny
Cow 1: child, whiny
Shepherd 2: child
Shepherd 3: child
Shepherd 4: child
Angel 2: child
Assorted Children's Nativity members (to fill out your choir and scene)- Non Speaking but will sing in a children's choir
(All child parts except Wise Man 1, Mary, Joseph and Cow 1 could be other animals or characters in the nativity play depending on what costumes you have and your personal preference)
Narrators: can be up to 4 different narrators or fewer depending on your preference. Youth narrators work well as they can be assistants to the director during the opening scene
Hotel Employee:  Man in mid-late thirties (or older)
Choir Member: Woman old enough to be a grandparent
Garbage Man: Man of any age
Mary (adult): young woman in her early twenties
Joseph (adult): non speaking man of similar age to Mary
Music is flexible and can include traditional carols or special music from your choir or praise team's repertoire.
Excerpt from Ordinary Made Extraordinary
Narrator 2:   And there were shepherds living out in the fields nearby, keeping watch over their flocks at night.  An angel of the Lord appeared to them, and the glory of the Lord shone around them, and they were terrified.  But the angel said to them, "Do not be afraid. I bring you good news that will cause great joy for all the people.  Today in the town of David a Savior has been born to you; he is the Messiah, the Lord.  This will be a sign to you: You will find a baby wrapped in cloths and lying in a manger."
Suddenly a great company of the heavenly host appeared with the angel, praising God and saying,
"Glory to God in the highest heaven,
and on earth peace to those on whom his favor rests."
Song Two: Children lead congregation in singing Angels We Have Heard on High (verse one only)
As song ends, the choir member should come out from behind the scrim.
Angel:  I wasn't even going to go to choir tonight.  I ran errands all morning and then babysat our grandchildren.  We were playing dress up all afternoon and I guess I forgot about this silly halo in my hair.  But I needed to run some more Bibles to the (Local Hotel) anyway and church is kind of on the way.  I figured I'd go for a little bit, run through this week's anthem and head out early.  It's not like I'm the star soprano or anything.  Half the choir would have to be sick for them to really need me.
But every once in a while there's a song that you just have to sing.  That's what happened tonight. As soon as the piano started playing I just knew this song was one that was meant for something more than your usual Sunday morning.  This was a song to tell good news with, to tell the whole world about God's love.  It was a song proclaiming all the things we've been waiting – a promised savior of the world.  It felt good just to sing the words.  And in the middle, it was almost like it was someone else singing.  Like God himself was singing through me.  And that was just practice.
Then I took the Bibles over to the Holiday Inn, for the Gideons.  I got to the hotel and had this feeling, this whisper in my head that said this was where I was supposed to be singing my song.  That savior I wasn't so sure would ever come was here, born in the (Insert Local Hotel Name) just a few miles from my house.
I had to sing the news to the people.  I ran out of that hotel as fast as I could and told the very first people I could tell.  Sure, they were garbage men…a little smelly and not all that important, but I guess it isn't my job to decide who hears the good news.  I'm just an ordinary person trying to follow God the best way I know.  Every once in a while, I get to be part of something extraordinary.
Choir Member returns to place behind the scrim