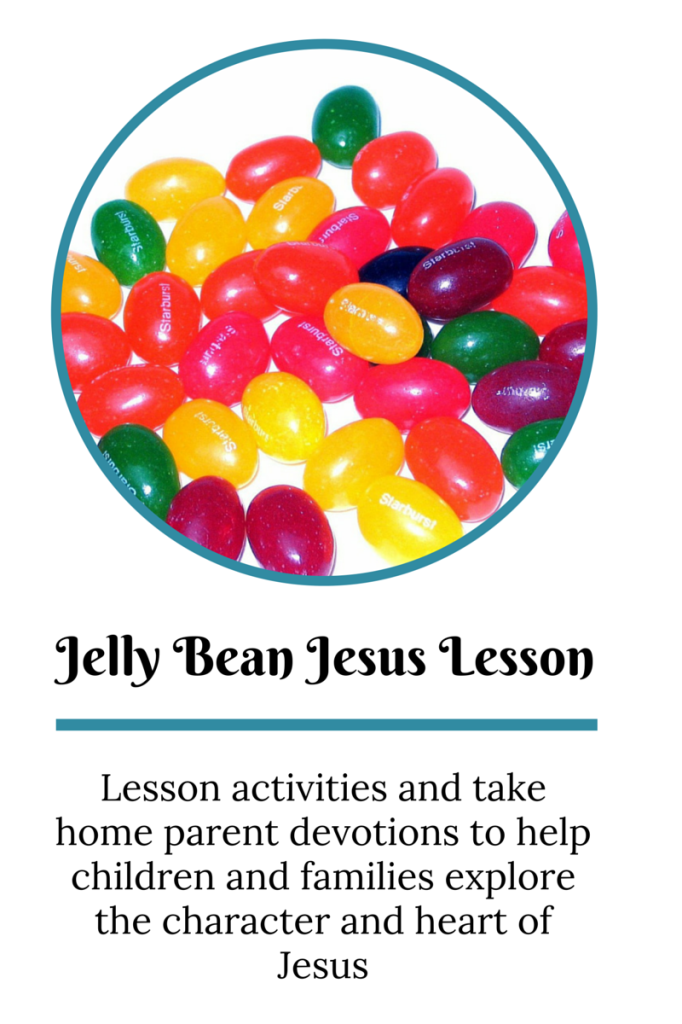 As promised, I am back with a full lesson and printables for your children's ministry.  This is designed to be taught around Easter, but it could easily be modified for any time of year (you may need to use Skittles,Lifesavers or M&Ms instead).
One allergy note:  Some children react badly to Red Dye #40 and other food dyes.  Be sure you are aware of any children with this issue and notify parents you will have a snack as part of the lesson (if you plan to allow children to eat the jelly beans during class)
Lesson Overview:
Jelly Bean Jesus Lesson
Age Level:  Elementary (K-5th grade)
Scripture: Ephesians 1:7, 1st Timothy 4:10, John 8:12, 2nd Corinthians 5:17, John 18:37, John 15:9-13, 1st John 2:2
Objective:  Children will begin to understand seven characteristics of Jesus (to be further explored at home with Jelly Bean Jesus Devotions)
Supplies Needed:  White, orange, yellow, green, purple, pink and red paper, timer able to mark seconds, marker, carrot shaped treat bags, twist ties, white, orange, yellow, green, purple, pink and red jelly beans (separated by color in seven Ziploc bags), Jelly Bean Jesus labels (enough sets to label jelly beans and use with craft activity), Jelly Bean Jesus treat cards, Jelly Bean Jesus devotions, large white paper, jelly bean or sensory paint and paint supplies (or craft supplies of your choice), clean up supplies
Notes for Teaching this Lesson:
It may seem like there are a lot of supplies and preparation for this lesson, most of the supplies are printable items available below.  The other supplies are very easily modified to your setting.
It can be tempting to set up the candy in an assembly line and skip hiding the candy and finding it, but this process helps the children be involved in the lesson.  It keeps their attention better in a fairly long Bible lesson if they can be up and moving around.
Use whatever craft supplies you are comfortable with for the craft.  Jelly Bean paint like this one are fun and unusual, keeping students more engaged in their free art time.  This free art allows students to connect with God's Word on their own.  Even if they choose to paint or draw Minecraft figures or princesses, they are still seeing these words at the top of their paper.  It is an opportunity for children to connect with God, but that opportunity is for them. We cannot force a child to seek God while they are painting, we can only create an environment and expect the Holy Spirit to do the rest.
Blessings to all! Tweet me (@mammarousu) or email pictures of your kiddos doing this lesson!
Jelly Bean Jesus Devotion Elementary