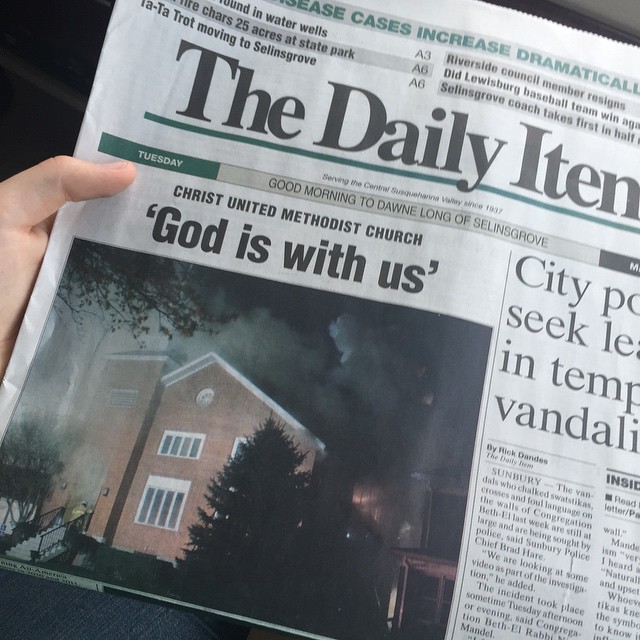 As many of you know, there was a catastrophic fire at Christ United Methodist Church last night.  Our hearts are breaking, but we are trusting and leaning on God's grace and mercy to carry us through.
I wanted to reach out to all preschool parents with some words and tools to help you explain to your preschooler what has happened.  While these are specific to our crisis, most of these tips are valid for any crisis or traumatic event.
While the building is lost, Christ United Methodist Church and Agapeland are not. Pastor Ryan, Ms. Jaime, Ms. Michele, Ms. Amy, Ms. Wanda, Ms. Dawn, Ms. Isabel and all of the adults your child sees and loves at church and preschool are all safe.
God will take care of us through this hard thing. We are amazed at the many ways other churches and members of the community are rallying behind us.
Ways to help your preschooler process grief or fear because of the fire
Talk about what has happened as simply as possible. Fewer words are better.  There was a fire and the building is broken.  The church was never about the building, but about the people  and the love of Jesus we all share.
 Art is a wonderful way for preschoolers to express their feelings.  Give them paper and markers, paints or other supplies and let them create. They may not have words to express their fear or sadness.  Painting or drawing about it may help them express these feelings.
Do not be alarmed if your child pretends about the fire. This is a very healthy way for children to process a traumatic event.  Encourage this kind of play, even if it seems a little violent.  Children at this age sometimes need to "conquer" their scary things in pretend play to feel better.
Keep as much of your normal routine as possible. Preschool may be postponed and worship may be different, but everything else should stay as normal as possible.
If your child expresses worries that your house may burn down, talk about or even practice your family's emergency plan.  This gives your child a sense of security and control over their surroundings that this fire may have upset.
If you feel your child needs to see the building, stay as far away as you can. Standing in the alley or in the parking lot as far from the building is safest.  The building is not structurally sound and there is much broken glass and debris that would be dangerous for children.
"The church is not a building, the church is not a steeple, the church is not a resting place, the church is a people!" Praying for all of us in this storm.  God is bigger and greater than even this.